BRIDGING DISCIPLINES
Integrating our own indigenous research and clinical practice.
Our research teams work collaboratively with colleagues within the centre and other institutions countrywide to discover new materials, techniques and pathways for patient care.
Our Research Domains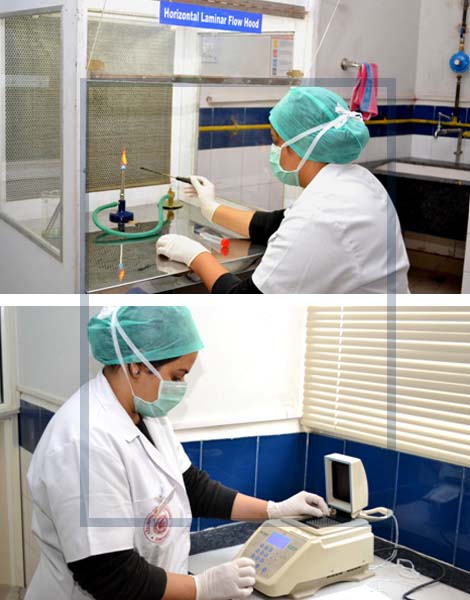 To Discover
New techniques
& Materials
Office of Research
The Office of Research is located on the First Floor, Dental OPD.
The research mission of I.T.S Dental College is to support development of new knowledge in oral health science and related fields that will contribute to improved health. Essential to this mission is promoting an integration of basic, translational, clinical and health services research along with associated educational programs.
Through the Office of Research, the college supports:
Outstanding faculty research for continuing and new investigators
Faculty cross-disciplinary research initiatives and centers
Research space infrastructure and renovation
Research Training and opportunities
We take great pride in the research programs I.T.S Dental College. Our investigators conduct cutting-edge basic and translational science, clinical/health services research, and educational research that is used to transform clinical practice and dental education. Research and scholarly pursuits are essential activities for all faculty, students, and residents. Research fulfills the school's mission to contribute to the knowledge necessary to improve the oral health of the people of, the nation, and the world. Furthermore, research is an essential component supporting the education of dental and graduate students within the college.
Best Young Dental Researcher Award
Awarded to students with innovative ideas to identify and foster exceptional ground breaking research projects.
Other opportunities
For questions about Individual undergraduate and postgraduate Fellowship Awards contact Centre For Advanced research.
We strongly encourage all graduate students to apply for fellowships.  Fellowships vary in amount and are an important source of funding designed to help students meet their research requirements.
Research news, events and highlights
Inauguration of Centre for Advanced Research
I.T.S - CDSR has established an Advanced Centralized Research Facility "Centre for Advanced Research". It is the first research Centre in Northern India to provide complete guidance and facility in the area of Biotechnology, Microbiology Genomics, Immunohistochemistry and Dental Metallurgical studies.
The main focus of the Centre for Advanced Research is to provide guidance, training and research facility to B.D.S, M.D.S, M.S.C and M. Pharma students for undertaking their thesis/research work.
The centre for Adavanced Research, I.T.S Dental college was inaugurated on 20th December, 2014.
---
Workshop on Blood and Dental Plaque as Molecular Tools- Theories and Practices
A one day workshop on GENOMIC DNA ISOLATION AND PCR titled 'BLOOD AND DENTAL PLAQUE AS MOLECULAR TOOLS- THEORIES AND PRACTICES' was organised by Centre for Advanced Research and Department of Oral and Maxillofacial Pathology on 12 th December 2016.
This hands on workshop included an enriching Guest Lecture by Dr. Usha Agrawal, Scientist E, National Institute of Pathology, Safdarjung, New Delhi on Molecular Diagnostic Modalities followed by an interactive hands on session of DNA isolation from Human blood and Dental plaque followed by Agarose Gel Electrophoresis and demonstration of PCR.
The workshop was attended by over 70 participants from various dental colleges and was well appreciated by all.
Life sciences
The Centre for Advanced Research has scope for research in areas like molecular and cell biology, biochemistry, immunohistochemistry, microbiology, pathology and molecular genetics and has the has following equipment for life science research work.-
PCR Thermocycler
Gel Documentation System
UV Trans-illuminator
Laminar flow hood
BOD incubator BOD (Biological Oxygen Demand) incubator
UV-Visible spectrophotometer
Microscope
Microtome
Autoclave
Anaerobic chamber for anaerobic bacteria culture
ELISA and ELISA reader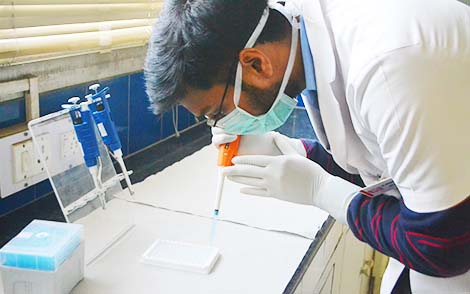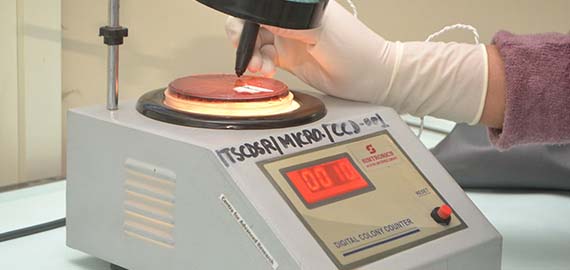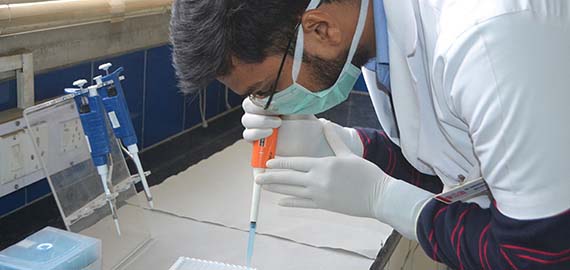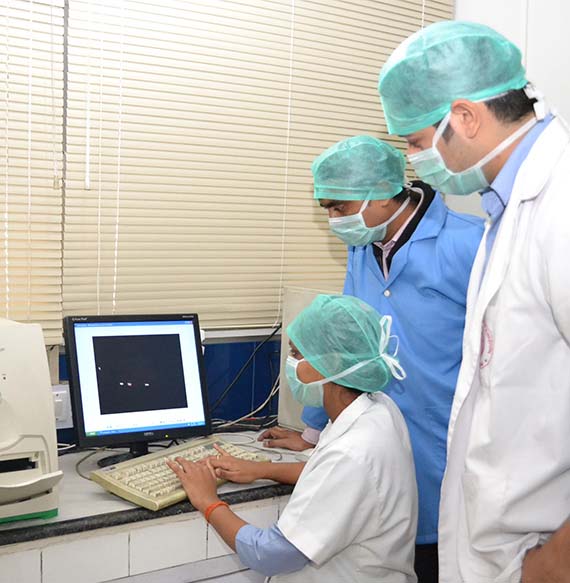 Microbiology

Microbiology is the study of microscopic organisms, such as bacteria, viruses, fungi and protozoa. This discipline includes fundamental research on aetiological agents behind oral infectious diseases. Among various oral and dental diseases, dental caries and periodontitis are major disorders in the oral cavity of microbial origins.Most of the investigations undertaken involve the growth and subsequent analysis of one or more bacterial species under continuous culture conditions.
ELISA

ELISA (enzyme-linked immunosorbent assay) is a plate-based assay technique designed for detecting and quantifying substances such as peptides, proteins, antibodies and hormones. Typically ELISAs are performed in 96-well polystyrene plates which will bind antibodies and proteins.
Advantages of using ELISA
Relatively easy immunoassay to perform
ELISA is both a qualitative and quantitative assay – it can therefore not only be used to detect the presence of an antigen but also to measure the amount of antigen present in the sample
It is possible to screen a large number of samples at once
The research facility provides for ELISA Plate Reader / Microplate Readers and ELISA plate Washers.
Genomics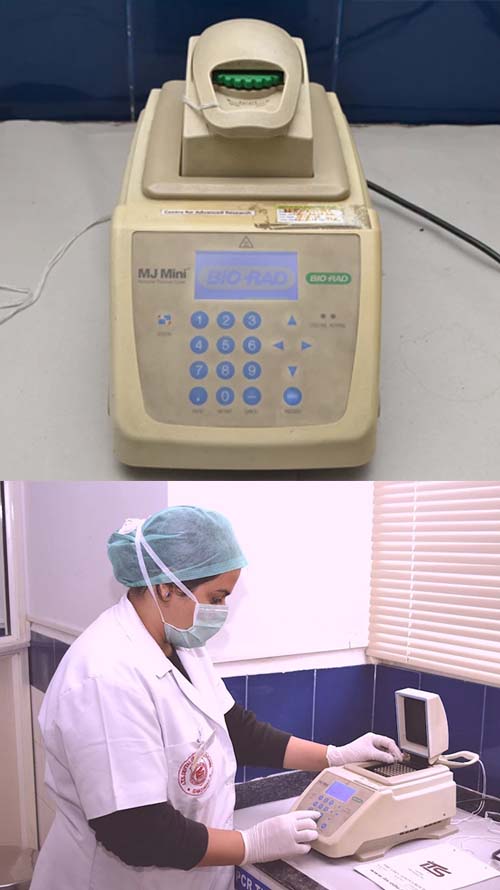 Recent research advances in genomics have necessitated the collection of large amounts of good quality DNA that are obtained from different sample sources.
Polymerase chain reaction(PCR) is performed in molecular biology to amplify a single copy or a few copies of a piece of DNA across several orders of magnitude, generating thousands to millions of copies of a particular DNA sequence.
Equipments in the genomic facility
PCR THERMOCYCLER
AMPLIFICATION OF NUCLEIC ACID
AGAROSE GEL ELECTROPHORESIS Horizontal
TO SEPARATE NUCLEIC ACID
GEL DOCUMENTATION SYSTEM
VISUALIZATION AND TAKING PHOTOGRAPH OF GEL
TRANSILLUMINATOR
VISUALIZATION OF DNA
PH METER
TO CHECK PH OF BUFFER SOLUTIONS
WEIGHING BALANCE
WEIGHING
VORTEX
HIGH SPEED MIXING
MICRO CENTRIFUGE
CENTRIFUGATION
HEATING MANTLE/HOT PLATE
FOR MELTING OF SOLUTES IN A SOLUTION
DEEP FREEZER
LONG TERM STORAGE
DENTAL MATERIALS AND METALLURGY
In area of physical behavior of metallic elements which include tensile, flexural, compression and photometric properties of dental material. The Advanced Centre has following equipments for metallurgical testing
Universal Testing Machine
Surface Roughness Tester
Spectrophotometer Reflectance for solid material
Stereomicroscope and Morpho-meteric analysis
Vicker's Micro-hardness Machine
Bite Force Tester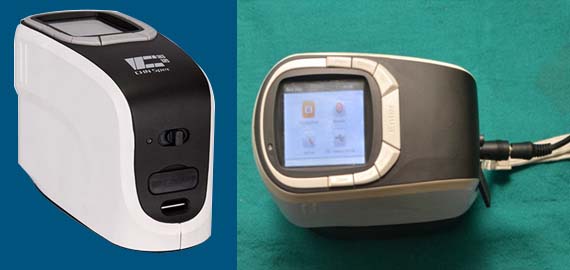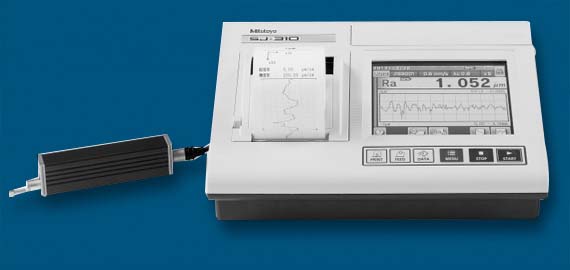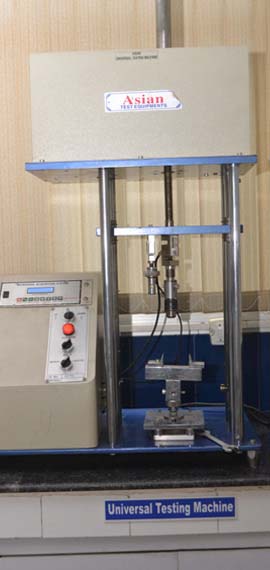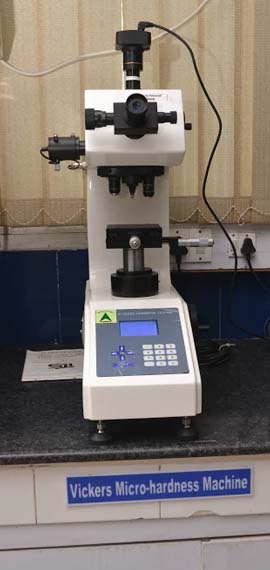 High Precision Portable Color Spectrophotometer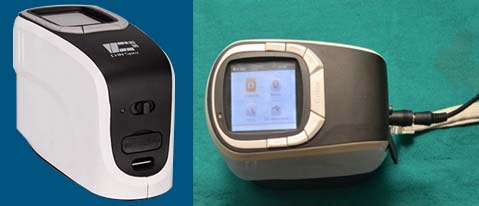 The reflectance spectrophotometry is a technique for non-invasive analysis in which illuminates the surface to be analyzed with a light of a known spectrum and recording the spectral response of the surface.
Surface Roughness Tester

We have the most expansive surface testing instrument to meet most challenging application requirements. Surface testing instrument is used in a wide range of applications like measurement of surface roughness of a dental ceramic after polishing with different vehicles and diamond pastes.
Roughness (Ra) is measured using a digital roughness meter accurate to 1.5 mm Lt. Roughness measurements are performed in compliance with the specifications of ISO 4287 standards.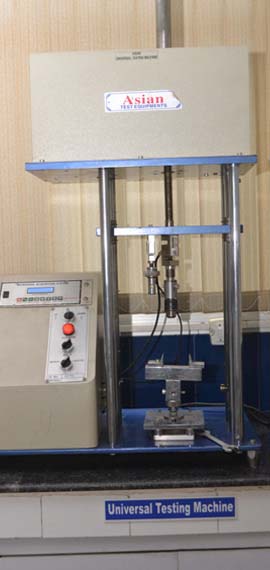 Universal testing machine
Our universal testing machine evaluates the mechanical properties of dental materials and components using tension, compression, flexure and fatigue tests.
Dental materials are tested mechanically to prove their performance in various applications-
Compression tests on resin-modified glass ionomers and resin composites are used to compare mechanical strength to conventional cements in dental applications
The flexural strength specifications include ceramic dental fillings, crowns, veneers, implants, and brackets.
Vicker's Micro Hardness Tester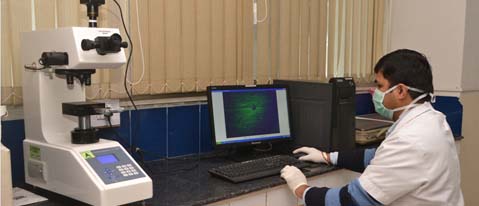 The Vickers hardness test is mostly used for small parts, thin sections, or case depth work. The Vickers method is based on an optical measurement system. The Microhardness test procedure, specifies a range of light loads using a diamond indenter to make an indentation which is measured and converted to a hardness value. It is very useful for testing on a wide type of materials applied to determine the hardness of small areas and for very hard materials.